The largest selection of laser cutting materials for jewellery
We are constantly sourcing new and interesting materials, there has never been a larger or better selection of acrylic available to make your jewellery pieces come to life. The hardest part is choosing one, we have over 250 amazing materials available to use right now! Laser cut jewellery is a great way to express your creativity and share it with the world.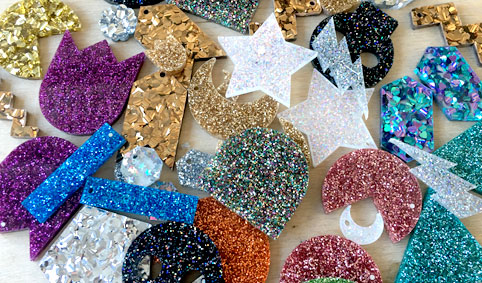 LASER CUTTING for very Intricate fine details pieces
We optimise our laser cutter to cut perfect detail every time, our settings are tried and tested on even the most intricate of etching designs. We can cut tiny engraved pieces as big as your thumbnail with beautiful detail every time, some guidelines for perfect pieces can be found on our file setup pages.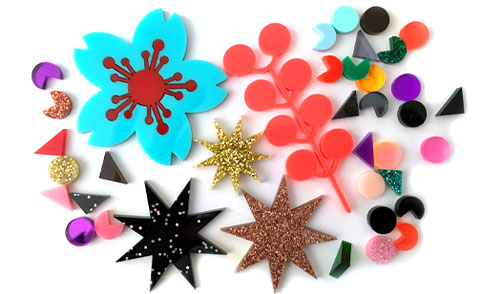 Laser cutting for layered brooch designs
Laser cut layered brooch designs are a great way to use multiple colours in one design, they are essentially a tiny jigsaw with a backing plate to hold it all together. Play with raised sections and layers to create the ultimate wearable piece of art! We can cut a custom one off piece or multiple copies for your brooch designs.
Laser cut earring designs
Who doesn't love a colourful, locally produced, handmade pair of earrings? With our very large range of materials and your imagination anything is possible. Use multiple colours, patterns and layers, it's artwork for your ears. But whatever you create is sure to become a collectable for generations to come!
Laser cut simple shapes - it's that simple!
Just needs some simple shapes cut? No file or design is required for this option, we can simply cut the shapes to your specifations and post them to you in a flash! All information on ordering simple shapes can be found on our simple shapes page. Along with so many options for simple designs that can be customised every way you would like. Order your simple shapes here.
Fast turn around, express post and courier delivery
Smaller jobs can usually be completed and ready to post within 24 hours of payment being made. We send items out by express post Australia wide. For more information on turn around times and postage options see here.