LASER CUT STENCILS

 – Stencil Plastic


Material Thickness
0.3mm thick

Sheet size
Sizes 900x600mm , 600x450mm, 600x600mm, 600x300mm, 300x300mm (and everything in between)

Material finish
Translucent white tear proof plastic for making stencils, washable. Made from Mylar Polyester.

Laser Cutting
Cuts well for intricate or simple shapes, make sure that you stencil has been designed to stay in one piece and that the pieces holding your design together are at least 1mm thick. Burn marks will be visible, see images.

Raster Etching
Not recommended

Protective paper
Not applied some burn marks will show.
STENCIL SETUP GUIDELINES
We need a vector file (or very high resolution black and white jpg) to create laser cut stencils, otherwise the quality of the stencil will not be smooth. Usually vectors used for logos are EPS or AI or PDF file.
A few tips and examples for creating stencils
The largest stencils we can make are 900x600mm. You can lay multiple stencils up on a 900x600mm sheet to save money.
Before you start make sure your stencil artwork is setup at 100% the exact size it should be when cut.
When drawing up your design you will need to add little bridges in to hold the center of certain letters and design elements in place, this is most important when using fonts. The bridges need to be at least 1mm thick, have a look at the examples below.
Other areas in the design are also best kept at 1mm thick for strength and also because the laser cutter cannot cut super fine detail from stencil material. Very detailed stencils are better cut from 1.5mm or 2mm acrylic.
Always draw a rectangle around your designs so we know exactly how big to make your stencil.
See our examples below to help you create a stencil that will stay in one piece and look great!
Stencil Setup Process
Examples of different bridge thicknesses.
In this test cut you can see that anything from 0.6 – 1mm may hold together. To be safe we suggest making all parts of your stencil at least 1mm thick so problems don't arise when cutting, shipping and using your stencil. Anything less than 1mm thick can be fragile.

Cutting guide for fine detailed stencils
A few examples of cutting fine detail for stencils.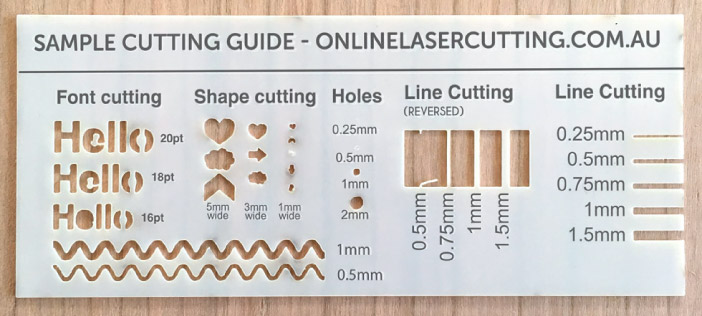 Font cutting
Examples of cutting fonts with and without bridges added.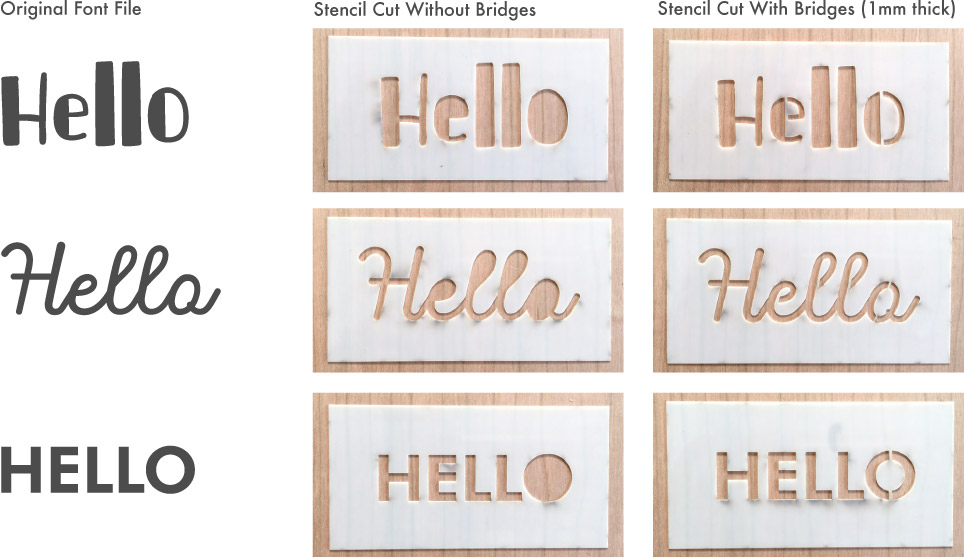 Confused?
Don't worry if this makes no sense, getting stencils right can be tricky – we can help you setup your file so it cuts perfectly, just send through a quote request so we can take a look!
Our materials are not for sale, they are only for use with our laser cutting service